Special Situations/Other Groups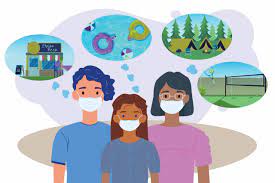 ---
Can the school nurse administer nebulizer treatments on campus?
Where possible, nebulizer treatments should be scheduled to be administered at home or the student may switch to metered dose inhalers with spacers for use at school. Nebulizer treatments, if required to be administered at school, should be done in a separate room with only the school nurse and student present. Nebulizer treatments should be administered to only one student at a time. If a window or fan is available, open the window and vent the fan to blow out of the window. The person administering the treatment should wear personal protective equipment (PPE), including a fit-tested N95/KN95 respirator, a face shield or goggles, gown, and gloves. Hand hygiene (washing) should be performed before donning (putting on) and after doffing (removing) PPE. Upon completing the nebulizer treatment, the student should perform hand hygiene. The room should be left vacant for a period of time (suggested minimum of two hours) then thoroughly cleaned and disinfected. Consult with individual student health care providers, if applicable, and Individualized Education Program (IEP) (teams to determine the best modality to meet students' needs on an individualized basis). Appropriate consents must be obtained for communication with outside providers. Review IEPs, 504 Plans, asthma action plans, or individualized health plans to determine if these plans will need to be amended or modified.
Playing of some music instruments and singing are recognized as ways COVID-19 can be spread more easily by respiratory droplets. How can we prevent transmission in band or music classes?
All persons playing instruments in orchestra, band, and general music settings, or singing, dancing, participating in color guard, or teaching must wear a washable or disposable, multi-layered face covering or mask while indoors. Individuals playing aerosol-producing wind instruments should pull down their mask, play the instrument (with a bell cover as necessary), then replace their mask over their nose and mouth. Face coverings should only be completely removed while outdoors when physical distance is maintained.
When indoors, reduce the number of singers and performers in ensembles and encourage physical distance between different ensembles. A minimum 3-foot radius should be maintained between singers and/or instrumentalists, regardless of vaccination status. Duration should also be considered. A recent study found that limiting rehearsal times to 50 minutes or less significantly reduced the quantity and spread of aerosols among the individuals involved. When possible, music classes held indoors should occur in well-ventilated spaces and, if possible, with windows open. Additional guidance and technical resources for ventilation for acceptable indoor air quality is available from the American Society of Heating, Refrigerating, and Air-conditioning Engineers.
Whenever possible, hold music classes outside. Outdoor rehearsal is the safest option. When outdoors, masks and bell covers for instruments are not required. However, depending on local transmission rates, mitigation efforts, including masking, may be implemented.
For additional guidance on music classes, see IDPH Interim COVID-19 Music Guidance.
To facilitate safe participation in extracurricular activities with elevated risk for COVID-19 transmission, such as activities that involve singing, shouting, band, and exercise that could lead to increased exhalation, especially when conducted indoors, CDC recommends that schools implement screening testing for participants who are not fully vaccinated. According to the CDC, participants should test for COVID-19 at least weekly in areas with low or moderate transmission and at least twice per week in areas with substantial transmission. To protect in-person learning, CDC recommends that higher-risk extracurricular activities be virtual or canceled in areas of high community transmission, unless all participants are fully vaccinated. For additional information on CDC K-12 Screening Testing recommendations, see table 1 of the new CDC Guidance for COVID-19 Prevention in K-12 Schools.
Occasionally, students share music, equipment, and even instruments. How do we manage these situations?
Avoid sharing instruments. If instruments must be shared (e.g., drums), they should be cleaned and disinfected between students. Music reeds and mouthpieces should not be shared. Note that some instrument surfaces may be damaged by cleaning and disinfecting products. Contact your instrument dealer for guidance on disinfection and follow the manufacturer's instructions for cleaning. Discourage the sharing of music stands so that students do not inadvertently move closer to each other to see the music.
If an athlete is diagnosed with COVID-19, is it up to the school to notify all other teams that the athlete has been in contact with?
Yes. The school should make generic notifications to other schools and teams with which the confirmed or probable COVID-19 athlete may have had contact without identifying the person's name. Provide minimal information to protect confidentiality, but enough for the school to respond as needed. The local health department can assist in making this notification.
What is the role of the local health department in a situation involving an athlete diagnosed with COVID-19?
The local health department (LHD) will conduct contact tracing to identify close contacts to the case outside of the school setting (including household, physical, and sport-related) and place them in quarantine for the recommended period of time.
Pursuant to 77 Ill. Admin. Code 690.361, schools must also conduct their own contact tracing in the school to determine if students or school personnel must be excluded from school, extracurricular events, or any other event organized by the school, regardless of whether an isolation or quarantine order has been issued by the LHD, as required by Executive Order 2022-03.