Physical Distancing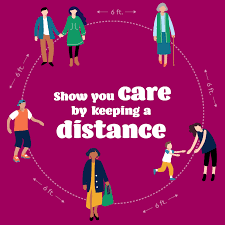 ---

What are the CDC's physical distancing recommendations for individuals in classrooms?
CDC recommends schools maintain at least 3 feet of physical distance between students within classrooms, combined with universal indoor mask wearing, to reduce transmission risk. Because of the importance of in-person learning, schools where not everyone is fully vaccinated should implement physical distancing to the extent possible within their structures (in addition to masking and other prevention strategies) but should not exclude students from in-person learning to keep a minimum distance requirement.
What additional prevention measures should schools adopt if maintaining physical distancing of at least 3 feet between students is not feasible in their facilities?
When it is not possible to maintain recommended physical distance of at least 3 feet between students, 6 feet between students and teachers/staff, and 6 feet between teachers/staff who are not fully vaccinated, such as when schools cannot fully re-open while maintaining these distances, the other layered prevention strategies play an even more critical role. Universal indoor masking (required for everyone in pre-K-12 schools); screening testing; cohorting; improved ventilation; handwashing; covering coughs and sneezes; staying home when sick with symptoms of infectious illness, including COVID-19; and regular cleaning and disinfecting can help reduce transmission risk.
What are the CDC's physical distancing recommendations for cafeterias and other areas where food is consumed?
Schools should maximize physical distance as much as possible when students are moving through the food service line and while eating (especially indoors). Using additional spaces outside of the cafeteria for mealtime seating, such as the gymnasium or outdoor seating, can help facilitate distancing. Schools may wish to consider "staggering" schedules for arrivals/dismissals, hall passing periods, mealtimes, bathroom breaks, etc., to ensure the safety of unvaccinated students and staff. Additionally, risk of transmission may be decreased by improved ventilation strategies per CDC guidance, such as open windows and fans (weather permitting). Staff and students should abstain from physical contact, including, but not limited to, handshakes, high fives, and hugs.