Cleaning and Disinfection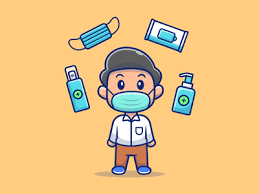 ---
What kind of cleaning and disinfection for schools is recommended?
Schools should develop sanitation procedures per recommendations of the CDC, IDPH, and local health departments. In April 2021, the CDC issued a scientific brief on SARS-CoV-2 and surface transmission for indoor environments that concluded:
Routine cleaning performed effectively with soap or detergent, at least once per day, can substantially reduce virus levels on surfaces. When focused on high-touch surfaces, cleaning with soap or detergent should be enough to further reduce the relatively low transmission risk from fomites in situations when there has not been a suspected or confirmed case of COVID-19 indoors. In situations when there has been a suspected or confirmed case of COVID-19 indoors within the last 24 hours, the presence of infectious virus on surfaces is more likely and therefore high-touch surfaces should be disinfected.
Clean with products containing soap or detergent to reduce germs on surfaces and objects that will remove contaminants and may weaken or damage some of the virus particles to decrease the risk of infection from surfaces. Clean high-touch surfaces and shared objects at least once a day. For more information on cleaning and disinfecting schools, see Cleaning and Disinfecting Your Facility.
Clean more frequently and disinfect surfaces and objects if certain conditions apply:
High transmission of COVID-19 in your community
Low number of people wearing masks or improper mask usage

Infrequent hand hygiene

The space is occupied by people at increased risk for severe illness from COVID-19

If someone in your school is sick or someone who has COVID-19 has been in your school in the last 24 hours, clean and disinfect the facility.
Ensure that U.S. Environmental Protection Agency (EPA)-approved disinfectants for use against COVID-19 are available to staff responsible for cleaning.